Founder and Music Director
Since 1986, Dr. Laura Lane has been serving the greater Galesburg and Quad Cities communities, bringing beautiful choral music to audiences and singers alike. A leader in her field, she is known throughout the country for her innovative programming and her musical expressiveness.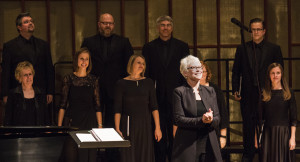 Under Dr. Lane's Direction, Nova Singers has earned a nation-wide reputation for virtuosity,expressiveness, and innovative programming. She has led Nova Singers in performances for state, regional, and national conventions of the American Choral Directors Association. Recordings of the Nova Singers have reached audiences throughout the United States, giving choral directors new ideas for their own choirs.
Dr. Lane is professor of music, director of choral activities and chair of the music department at Knox College. She has led the Knox College Choir and Chamber Singers on tour throughout the United States and Europe. In March of 2005 she made her Carnegie Hall debut, conducting the New England Symphonic Ensemble and combined choirs from Illinois and New Jersey in the Vaughan Williams' Dona nobis pacem, with MidAmerica Productions. She also teaches voice, conducting, music history and opera workshop.
A champion of 20th century music, Dr. Lane has commissioned and premiered twelve new choral works by such notable composers as Thea Musgrave, Ruth Watson Henderson, Zae Munn, William Hawley, and Bruce Polay.
A popular clinician, Dr. Lane has led junior high and high school choral festivals in Illinois, Indiana, and Missouri. In January 2001, she directed the Illinois All-State Chorus. She is also an active member of the American Choral Directors Association and is currently serving as College/University Repertoire and Standards Chair of the Illinois-ACDA.
Dr. Lane holds an undergraduate degree from Washington University in St. Louis, a master's degree from Westminster Choir College, and a doctorate from the University of Iowa. She has studied conducting under Joseph Flummerfelt, Don V. Moses, Helmuth Rilling, James Dixon, and Margaret Hillis.